Want Proof that Video Marketing Actually Works? Here It Is
So you've heard that video marketing is one of the most popular tools for digital marketing in 2018 (spoiler alert: and 2019). Great. But what you're not sure about is what that means for businesses like yours in tangible, quantifiable ways.
Video is more engaging, more memorable, more popular and easier to digest than any other form of content. Need some proof? Here are some pretty impressive facts and figures about the power of video marketing.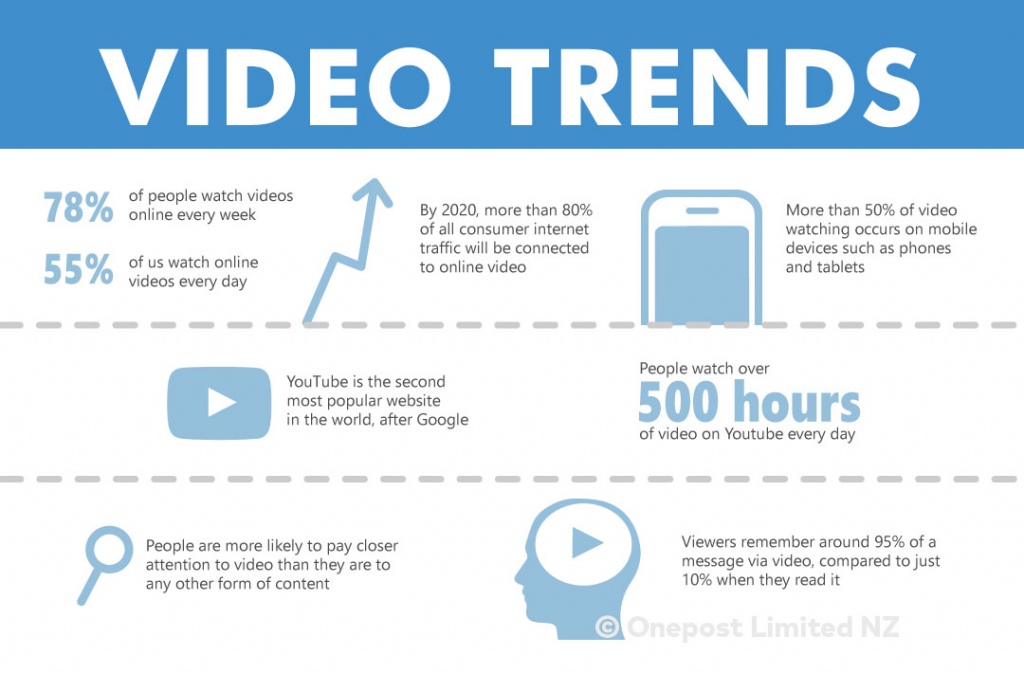 Video Trends
78% of people watch videos online every week. 55% of us watch online videos every day.
By 2020, more than 80% of all consumer internet traffic will be connected to online video.
YouTube is the second-most popular website in the world, behind Google.
People watch more than 500 hours of video on YouTube every day.
People are more likely to pay closer attention to video than they are to any other form of content.
More than 50% of video watching occurs on mobile devices like phones or tablets.
Viewers remember around 95% of a message via video, compared to just 10% when they read it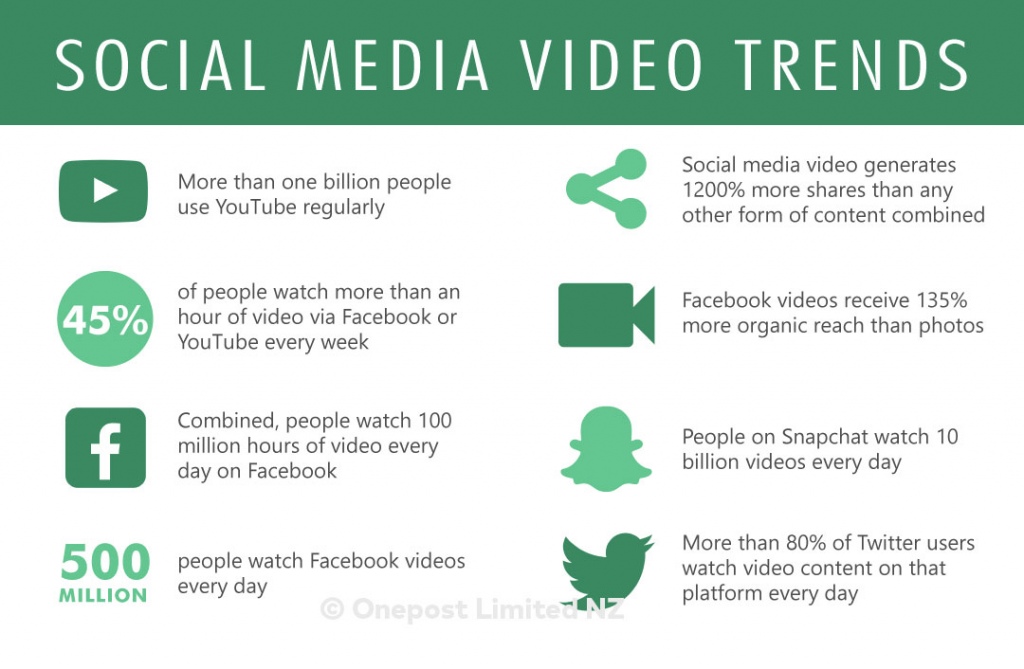 Social Media Video Trends
More than one billion people use YouTube regularly.
45% of people watch more than an hour of video via Facebook or YouTube every week.
Combined, people watch 100 million hours of video every day on Facebook.
500 million people watch Facebook videos every day.
Social media video generates 1200% more shares than any other form of content combined.
Facebook videos receive 135% more organic reach than a photo.
People on Snapchat watch 10 billion videos every day.
More than 80% of Twitter users watch video content on that platform every day.
Video Marketing Stats
Nearly 50% of internet users look for videos about a product or service before they buy it.
Including video on a website landing page can increase conversion rates by a whopping 80%.
Search for "how to" videos on YouTube have grown 70% every year.
Adding the word 'video' to an email subject line increases open rates by almost 20% and clickthrough rates by 65%.
More than half of all marketers say that video returns better ROI than any other form of content.
Blog posts that incorporate video attract three times as many clicks as those without.
Making Video Marketing Work for Your Business
As you've just read, video marketing done well can produce exceptional results for any business that's committed to it. That's the key word here: 'committed'. Video marketing results often don't happen overnight, but with patience, perseverance, a willingness to take risks and a commitment to seeing the process through, results will happen.
Keen to see the transformation your business could experience if you partake in a bit of video marketing of your own? Have a chat with the friendly and experienced Onepost video production team today. We specialise in video marketing and social media video production for Kiwi businesses just like yours, and we really know our stuff. We'll help you figure out your target audience, your goals and expectations, and what type of video would work best for your business. From there, we'll create kick-ass video content that can be used across a wide range of social media and digital marketing platforms.
Ready to talk to an expert? Contact the Onepost team today.
—
Source: Biteable